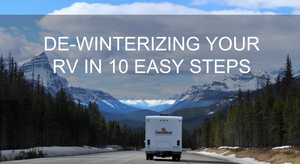 DE-WINTERIZING YOUR RV IN 10 EASY STEPS
DE-WINTERIZING YOUR RV IN 10 EASY STEPS.
                   Who's super excited to get their RV out of winter storage and off to your first official camping trip of the season?  
With spring just around the corner its almost time to De-winterize your RV in 10 easy steps We hope you followed Winterizing your RV in the fall and find that you wont come across any issues for the winter months.
Winterizing your RV in the Fall is critical to making sure no damage was caused during the winter
           Well lets get started......Last one to the camp ground is a rotten egg :)
           Time to De-winterize your RV in 10 easy steps and prepare it for the camping season !
1) RV TIRES    
           It's common for your RV tires to loss 2-3 psi of air pressure per month while sitting in storage. Make sure to check each tire to ensure the correct amount of  air pressure (psi), making sure not to forget about the spare tire.
Ensure to inflate your

RV tires to the proper pressure according to the tire manufacturers weight chart

. Do a visual inspection of your RV tires for cracks, bold spots, uneven tread.
Statistics indicate that the

Average life of an RV tire is five to seven years

. Determine the age of your RV tires by checking the DOT code on the sidewall. Find a string of numbers and letters that start with DOT, refer to the last 4 numbers. For example 3615, The first two digits are the calendar week the tire was in the mold (52 weeks in a year), while the final digit(s) indicates the year.  
Please keep in mind the importance of this being #1

in  

De-winterize your RV in 10 easy steps.

Failing to check your tires could result in uneven handling, faster tread wear or even a tire blowout on the road.
2 ) RV BATTERIES
Its common for RV batteries to discharge as much as 8% to 10% per month while in storage.

Safety First

, before checking your batteries,
Always Wear Latex Gloves and Safety Glasses.
Ensure Shore Power is Disconnected.
Turn off All RV Power including
( Inverter or Converter and the the main cut is in "off" position).
Make Sure All Your Battery Connections Are Clean

,
(use hot water and baking soda to clean them).
Make Sure There Are No Cracks In The Batteries

from winter freezing(disfigured, cracked or warped batteries need replacing).
Charge Your RV Batteries

, then check the battery fluid levels by adding

Only use Distilled Water

as needed. Only adding water to lead-acid batteries after you have charged them fully.

SUPER IMPORTANT:

If you remove your batteries, be very careful with wiring, Make sure the

(Positive & negative wires are clearly marked).
If you have decide to replace your batteries, Always replace multiple battery packs together. Never add a new battery to an old battery.
"DE-WINTERIZING YOUR RV IN 10 EASY STEPS"  
       3
)
 RV
EXTERIOR
It's time to give your RV a Spring Cleaning to remove dust, debris and all the deposits collected over the winter months. A bucket of gentle car soap and a sponge will get you started, click link for a large selection:
The Importance of the step is the Inspect your RV exterior for any water leaks or damage.

Checking all the caulking and sealants closely for cracks or damage. Visually inspect all the windows, doors and super important to check the seals around the roof , rv vents, rv air conditioner, rv skylights, rv roof mounting accessories and any other seals, especially around your RV lights.  If you find and cracks or damaged areas be sure to remove the old sealant and really clean the area before applying new sealant. Click link for large selection:
Checking your RV Awning that is intact and operating properly, once you have it pulled out be sure to Clean your RV Awning and remove mildew and stains that may have developed over the storage season. Click link if you're looking to try something new: RV Cleaning supplies
4) RV INTERIOR  
The Importance of the step is the Inspect your RV Propane Detector and other safety devices. All Detectors have an expiry date, Pick up your new in link below:  RV Propane Detector & Alarms 
but not limited to: rv smoke alarm, rv fire extinguisher, rv co detector-alarms and rv propane detector-alarms
Getting ready to clean your RV Interior of any spider webs and dust.
Pay particular attention for evidence of rodent droppings, discoloured panelling and look up at the ceiling for water stains. Being sure to clean out the hidden areas you don't normally see (rv water heater & rv refrigerator compartments).
5) RV FRESH WATER SYSTEM
Move the RV water heater's bypass valve into the normal position, turn on the hot and cold water checking all rv faucets and pipes for leaks.

If you have followed our " 3 Ways To Winterize your RV" and choose to use non-toxic RV antifreeze to winterize your RV fresh water system then you'll need to drain and flush the antifreeze from the system.
" 3 Simple steps to flush your RV fresh water system"
A).  For every 15 gallons of your RV tank capacity, you'll need to add 1/4 cup of house hold liquid bleach to 1 gallon of water. Add the water/ bleach mixture to your RV fresh water tank.
B). Turn on Your RV pump and full the system with the water/bleach mixture and let sit for 3-4 hours.
C). Drain the RV fresh water system and flush it out until the water tastes and smells bleach-free.
HALF-WAY TO DE-WINTERIZING YOUR RV IN 10 EASY STEPS"
6) RV PROPANE SYSTEM
The Importance of the step is to check your RV Propane System
If you smell or suspect a leak, Instantly turn off ALL propane Immediately and have a Certified RV Service Technician inspect your RV for leaks.
Checking your RV propane system, rv cylinders, rv propane hoses and seals.
Its Vital
to make sure your rv propane hoses haven't dried out and cracked, all so check your rv propane cylinders haven't expired.
When you're testing your RV's Propane system:
> Ensure that All propane appliances are "Turned Off"!
> Obviously Don't Smoke !!
> No Flames or Sparks
> Turn on the RV propane leak detector inside your RV (all rv propane detector-alarms have expiry dates, great time to check yours)
Slowly open the valve on your RV propane cylinder all the way.

Smell for leaks,

using a RV propane liquid leak detector solution

. (we don't recommend using dish soap solution causes corrosion, but if its all you have, its better to be safe. Get yours here, click link below:
Apply the solution to the valves, regulator and hose ends and watch closely, the solution will pinpoint the smallest of leaks by bubbles and spurting. Also check for any evidence of rodent damage within the wiring system and hoses.

Clean all of your RV propane appliance lines by lighting each rv propane appliance and letting it run for a while.

If all the RV propane appliances are working properly, make sure the RV's appliances parts and accessories operate properly in the (LP) Propane mode.

To keep the food inside your RV refrigerator safe it will need to maintain a temperature inside the lower compartment between 34 to 43 degrees Fahrenheit.

Once your RV Refrigerator reaches the correct temperature turn it off and and keep the doors open so it can reach room temperature before testing it on the AC electric mode.
7)  RV APPLIANCES
Since you've already tested your RV appliances on propane (LP) mode, its time to test them on AC electric.

Now is a good time to check all your RV Appliance (rv water heater and rv refrigerator) outside access door areas to ensure they are clean and free of all debris.

8) RV SEWER HOSES.
Check your RV sewer hoses for holes and leaks and that you have all the RV parts and accessories needed. We offer a large variety in link below : 

RV Plumbing
          Don't wait until you're dumping waste to figure out somethings wrong !!
9). RV WASTE TANK VALVES.
Making sure that your RV Waste tank is empty before checking the RV Waste tank valves. Recommended to do this task while you're at a connected to a RV dump station.
Checking the Waste valve by carefully moving the handle in very small increments to ensure its working properly. If its sticky, you may want to add some valve lubrication to restore the condition of the waste valve seal.
10). KEEP IN TOUCH.
Sign up for future RV Blogs and be apart of our RV Discount Parts Canada.com community.
           Email us at rvdiscountpartscanada@gmail.com
          Join us on Facebook   >> FACEBOOK 
          See us on Instagram   >> INSTAGRAM
---